I love to camp outdoors, eat Jack in the Box tacos, wear stretchy pants, and shop Forever 21 jewelry. Maybe if I was Beyonce, I'd be more flashy, but the truth is I'm a simple girl.
Jilly is also known around here as a down home kinda gal. She's from a tiny town called Snowflake, AZ where the fanciest thing there is the tiara on a rodeo queen....gaudy is just not in her blood.
See this stack of frames? Jilly found them hunting for deals around the valley and they're simply enchanting. However, they're all together in need of a serious make-under.

Enter some vision

and a little spray paint

We found this wall collage from Martha Stewart and LOVE the idea of
choosing monochromatic colors for the frames and coordinating throw pillows.

Nicely done!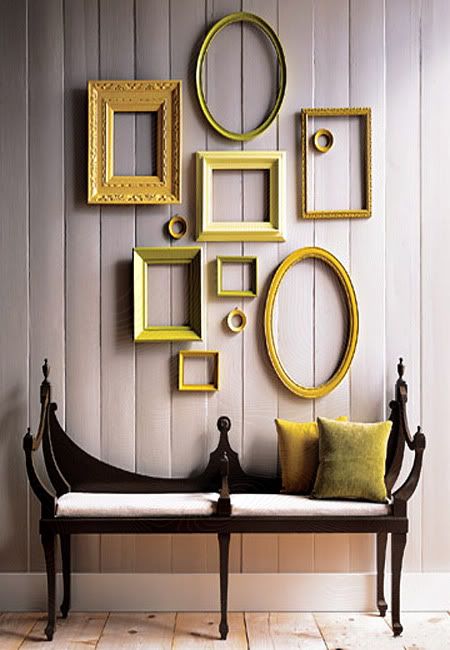 (and a handsome bench doesn't hurt)

Don't get me wrong, if you're still rockin' aqua net hairspray and cheetah stilettos, we don't judge. It's just that sometimes less is more.
Too bad I can't spray paint my wedding ring....
can I?