This year's centerpiece idea WINNER comes from our friends at
Domestic Bliss

in down town Mesa.
We love clever, inexpensive ways to spruce up a table and this one is

spot on
!
In four easy steps, you can have a
gorgeous
focal point that gives some impressive height, stunning texture, and just the right pop of color to your fall table.....you're welcome.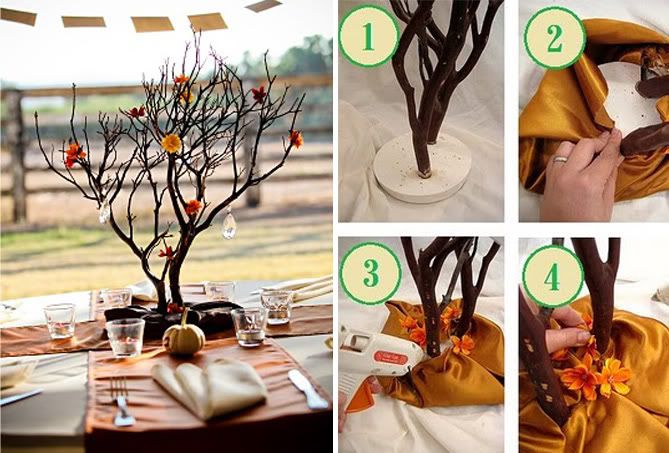 1. Prepare plaster of Paris according to instructions on box. Pour into the bottom of plastic container to a depth of about 1.5", insert branch. Hold upright or prop against something (a chair, the wall, anything to keep the branch stable and upright) until the plaster has set enough to hold the branch. This may take anywhere from 10-30 minutes. Once the plaster has set and the tree is stable, leave it somewhere safe & warm to finish hardening overnight.


2. Remove tree from the plastic container, being gentle with the plaster base. Preheat glue gun. Cut a piece of fabric about twice the size of the plaster base (make sure it will be large enough to reach the 'trunk' of the tree when you fold the edges over). Place plaster base on fabric, fold edges over, hot gluing in several spots so that plaster base no longer shows.


3. Take small silk flowers and arrange them wherever you think looks best on the fabric-wrapped base. This is also a great way to hide gaps in the fabric or any spots where the plaster is still showing!


4. Using hot glue gun, glue silk flowers in place. I also glued flowers here and there on the branches as well......it's best to go minimal here, remember, 'less is more!'
Happy Thanksgiving!
Mia