Mommy, Daddy and I found ourselves visiting family in Nebraska early this October. It was absolutely beautiful, laden with cornfields and all the trees with their leaves changing colors.

Definitely

one of the most relaxing trips I've taken in a long time.
Right before we caught our plane home, we popped into Z
Gallerie
. My eye was immediately drawn to a stunning, white
table scape
which included some creamy white, ceramic turkeys. I was in love.......but not with the price tag, with the idea of finding a couple little gobblers whose price wouldn't make me hurl my turkey dinner.
You can bet I found myself at the local Goodwill, and what to my wondering eyes did appear?
TOM &

TABATHA
, valued at $2.99 each.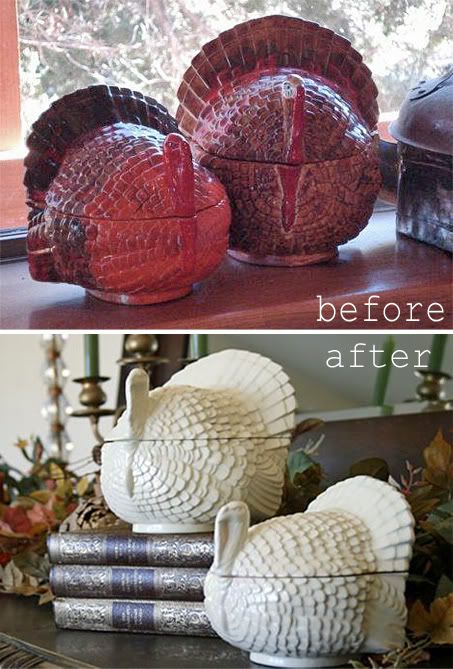 After a good washing and a 5 minute spray paint job, look at them! We absolutely can't wait to tuck this darling couple into our Thanksgiving tablescape this year!
Next Thursday afternoon there will be 25 of us enjoying Thanksgiving dinner at Mia's, then we'll carpool over to my home for a dessert buffet that evening. Just thinking about it gets me giddy!
That trip to the midwest with my parents made me realize once again how much I really love them. I am more and more thankful for them the older I get. Wow, it's hard to raise kids, and they did it 6 times. One things' for certain, they gave it their very best and I think they did an amazing job.
xoxo, Jilly